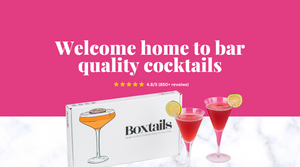 Shop our best-selling cocktails
Chose from cocktail collection boxes, pre-set bundles or individual 12% ABV cocktails.
It's Christmas!
See what Cocktail delights Santa has left under the boxtails tree!
What's inside?
Each pouch contains a delicious 12% ABV single-serve cocktail. Simply open, pour and serve in a chilled glass. Order a box of 12 and get the party started.

We're Boxtails Baby!
We are the UK's favourite at-home cocktail company bringing the experience of a night out to your home, taking out the unnecessary drama of creating, serving and drinking classic cocktails.

All our cocktails have been carefully crafted to be enjoyed by casual cocktail drinkers and cocktails connoisseurs alike.
Shop all cocktails
Don't just listen to us, listen to our customers
★★★★★

"We want more! Seriously we loved our Boxtails! The only issue was they ran out too quickly at our BBQ!"

Megan S
★★★★★

"Great Service. Well Packaged. Delicious cocktails. Great for ourcamping trip to sip in the hot tub."

Susie O
★★★★★

"A GOLD Martini! The lychee martini is amazing! Literally the first thing I bring to every dinner party from now onwords!"

Megan O
★★★★★

"Boxtails were SUCH a great idea for our party. Normally, i'm not that impressed by pre-made cocktails but Boxtails taste just like they would in a bar!"

Charlie C
★★★★★

"I try loads of ready to drink cocktails. I must say Boxtails always come out trumps! They're really fab! Maybe a bit pricier than the others but definitely worth it!"

Janet M
★★★★★

"WOW! bought these for my wife for our anniversary. She loved them! I'm not the biggest fan of cocktails bit i was impressed! The Daiquiri is brilliant."

Derek G
★★★★★

"Product Well packaged and makes a great present. I ordered a selection for my daughter. She starts Uni soon and thought they would be a good icebreaker"

Jacqui C
★★★★★

"Excellent product! Ordered the mixed box and could not fault them. All exceptionally tasty, not too sweet, quality drinks!"

Elizabeth B
★★★★★

"Loved the Boxtails cocktails, arrived as promised and they were delicious - mai tai Strawberry
Daquiri and Mojito recommended"

Claire C

Apart from being general legends!
Who exactly are Boxtails?
We're Cocktail connoisseurs and master drink scientists. The mission in our bar is simple, to build the most epic Cocktails brand on the planet. We want to be the "must bring" drink brought to every dinner, every party and every special occasion.
MORE ABOUT US